A £3m state-of-the-art Environment and Life Sciences laboratory at the University of Salford is to be named after geneticist Sir Walter Bodmer. Sir Walter was one of the proposers of the Human Genome Project in the 1980s, and was formerly research director of the Imperial Cancer Research Fund. The Human Genome Project – which mapped some 3 billion pairs of genes which make up our DNA – is considered the most significant advance in bioscience in a century. The new labs referred to as the 'Mega-Lab', are equipped as a world-class teaching facility, and feature an AV system that allows the lecturer to be linked visually and audibly with interconnected labs.
The FBS part of the project comprised 4 multi-use lab areas with space for up to 40 students in each a large technicians prep room and a student breakout area. The benches are a combination of island and peninsula layout, each with water, gas, vacuum, power and data integrated into the bench tops. To give flexibility of workspaces the units we supplied were all mobile types.
Architect – Halliday Meecham

Main Contracdtor – Harry Fairclough Construction

Value – £3m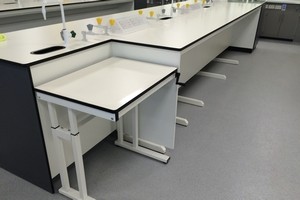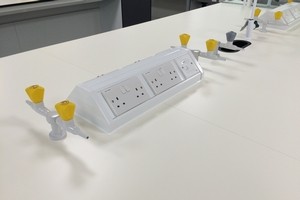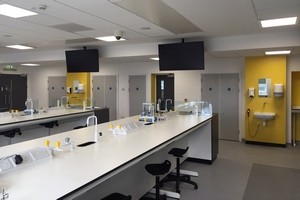 Each lab has a DDA compliant height adjustable bench section. The bench design is particularly heavy duty with a custom frame design, 20mm Trespa TopLab Plus worktops and hardwearing laminate finished storage units and safety stations. Finished in a particularly striking colour combination of white worktops; pewter grey units and bright yellow safety stations.
FBS completed our work on the new laboratories in the Cockcroft Building in October 2015.
Submit your enquiry to our supportive team.